Where the good
find the best.
Nonprofits Report a Growing Trend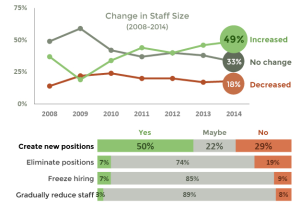 According to results from the recently released 2015 Nonprofit Employment Practices Survey, nonprofits are projecting growth this year that could surpass the corporate sector. Here are some facts from their survey:
The nonprofit sector is the 3rd largest employer in the U.S. that includes nearly 2 million nonprofit organizations and 10.7 employees.
The greatest growth is expected to be in direct services.
49% of nonprofits reported that they've increased their staff size in the last 5 years.
Most candidates for senior/executive level positions come from other nonprofits.
Read more about the survey results and hiring challenges many nonprofits face as they grow their programs and staff.