When I work with job seekers I share with them what HR and hiring managers say about who they hire.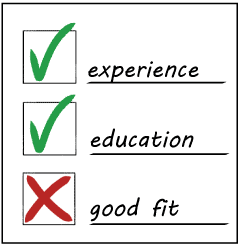 The job seeker's greatest fear is not having enough check boxes on the application or the most experience. Yet leaders tell me it's not the person with the most experience that gets the job.
Some agencies do think in terms of check boxes. Does this person have the right education or the right number of years of experience? Hiring managers may feel they need the right check boxes to justify their hiring decision.
I hear the following as typical real reasons for successful hires:
Personality fit
Agility
Articulation of experience
Articulation of their fit to the job
Vision
Strategic thinking
Story-telling of strengths and weaknesses
None of things show up on a résumé. I had a VP define personality fit. She was hiring a program director to manage of 8 people. She would ask about the candidate's management style. Candidates might talk to their assertiveness and ability to get things done.  In fact the résumé might say those things. But in this case, the program's youngest member had over 20 years on the job, so the manager should not be an aggressive driver. The director needed to be someone in a more supportive and administrative role.
Agility and resourcefulness will never be listed on a résumé. What hiring manager wants a staff member who needs hand holding or is resistant to change?
The interview that explores "who the candidate is as a person" can also be used to confirm claims made on the résumé. That happens in a conversation, not a Q&A session. Behavioral interviewing questions are an effort to get past the check boxes. These questions might be too intimidating if you are hiring for an entry level position, yet they can be very telling for executive positions. The best answers come from candidates when they are part of a conversation. Those behavioral questions should be relevant to the position and traits actually needed for the job.
As important as the résumé, it is equally as important to know who your candidate is as a person.  You are hiring a person, not a résumé.
©Bill Voigt. Bill is a Coach and Communications Consultant. His clients include leaders looking to inspire others, managers who need to engage their direct reports, job seekers needing to be more than their résumé, and health care providers who need to collaborate in the new practice of medicine. He is a contributing author to Lumity NPO.net's blog and job coach on NPO.net's nonprofit career center.