by Bill Voigt
Founder, Nimbus Communication
You want that job!  You need that job!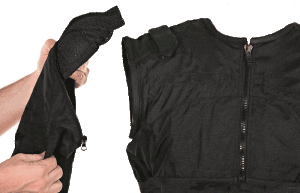 I worked with a job seeker who was really a very nice person— trustworthy, able to communicate well.  Yet he was rejected for each job.  We talked about what was said during these interviews that made them go sideways.
I suggested he wear a vest to his next interview.  Of course he pointed out that nobody wears a vest anymore and I must be showing my age.  I clarified that what I was suggesting is that he wear a "mental" vest to prevent interviews from going sideways. Sleeves on a vest are meaningless, representing any topic that is not really important. Yet many candidates take positions on unimportant items. Here is a vest sleeve the candidate discussed.
He described a particularly frustrating interview. He met with the recruiter who reviewed his résumé and felt he might be a good fit.
That interview was so fabulous that the recruiter suggested the candidate stay and meet the hiring manager whom he would report to.
The second interview was even better. There was great chemistry and his skills aligned with their needs. The hiring manager was so excited, he asked the candidate to meet the VP who ran that part of the organization.
That interview started out very well until suddenly, the VP had a strange look on her face, stood, shook his hand and said the interview was over. He was rejected!
I asked for details of the conversation with the VP.  Near the end of the interview, the candidate asked the VP why he should work for this agency. That ended the interview. Why? What did he do wrong? Wasn't it a reasonable question?
But why did he ask it? The ANSWER to that question had very little significance for the candidate at that point. He wanted to know something that meant nothing. If there had been a job offer, then he could have asked about the benefits of working at that organization.
This is where a mental vest comes in. Not asking for information that has very little real value to a candidate is like giving up sleeves off a vest—it's meaningless.
Anything that prevents you from getting to that next step are the sleeves of your vest. Whether those are the hours you prefer (assuming you really want this job and would work during any time of the day), healthcare details, vacation time, etc., are sleeves on the vest. You should not worry about them…until it is time to consider those items.
If key values issues or important deal breakers (driving 4 hours each way or giving up your family life) are integral parts of your vest, then you might choose to end the interview process. Keep the vest intact. But don't worry about the small stuff, those sleeves.
This is a story of being accepting and not judging the agency or the job before the offer. Instead of asking the VP why he should work for that agency, a better question would be: "What could I do in this job to help this agency and your department?"
Any time a job offer is made there is negotiation, even if the negotiation is only in your head. Is what they are offering what you need? Don't diminish acceptance of the offer with things that are as meaningless as sleeves on a vest.
©Bill Voigt. Bill is a Coach and Communications Consultant. His clients include leaders looking to inspire others, managers who need to engage their direct reports, job seekers needing to be more than their résumé, and health care providers who need to collaborate in the new practice of medicine. He is a contributing author to Lumity NPO.net's blog and job coach on NPO.net's nonprofit career center.