by Bill Voigt
Founder, Nimbus Communication
You want that job!  You need that job!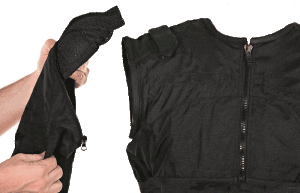 I worked with a job seeker who was really a very nice person— trustworthy, able to communicate well.  Yet he was rejected for each job.  We talked about what was said during these interviews that made them go sideways.
I suggested he wear a vest to his next interview.  Of course he pointed out that nobody wears a vest anymore and I must be showing my age.  I clarified that what I was suggesting is that he wear a "mental" vest to prevent interviews from going sideways. Sleeves on a vest are meaningless, representing any topic that is not really important. Yet many candidates take positions on unimportant items. Here is a vest sleeve the candidate discussed.