How to Get a Job When Your Résumé Isn't the Best One They See
by Bill Voigt
You see a job you would like to have. You apply for the job.
You could be a new person to the market, maybe just out of school and trying to get your first full-time job. Or you could be an experienced professional seeking to re-establish yourself after a departure from the career path.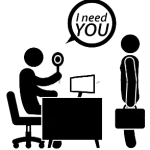 You have a sinking feeling that there must be many better qualified applicants than yourself. But somehow, you get a notice that they would like to meet with you or have a conversation over the phone. Excitement!
But then you start thinking about the questions they might ask. Your résumé and experience may be limited. How can you let them know you can do this job?
I had a conversation with a Director of HR at a mid-sized company about how they pick the winning applicants from those they speak to or meet. I also ask of my audiences when speaking about this issue, "What is the recruiter or hiring manager looking for?" The answers from my audiences typically mirror the answers from the Director of HR.
Here are a few things he said are important:
First, stop thinking about you! What they want to know is: Are you thinking about THEM and their AGENCY? This meeting is not about reciting your experiences since they already have found your résumé adequate for this step. This meeting is about how your experiences contribute to the needs of this job. But since you may not know if your experience does help them, this is difficult. You hope it does, but you don't really know.
They want to know who you are. Can you communicate (if the job requires it)? Can you work alone (if the job requires it)? Are you funny? Serious? Caring? Strong willed? Easy? Are you happy? They want know this because they know the kind of person (not just skills) they need for this job and need to decide if you fit.

Example: A director was hiring a department manager. He asked candidates about their leadership or management style and experiences in managing. Because he was hiring for a department where the employees all had 20 years of experience, he did not need a driving, strong manager. He needed a respectful and supportive manager. It would be good to know this before you characterize yourself.
The résumé can be used to confirm who you claim to be so the hiring manager will want to talk about your experiences to make sure you are consistent. But a secret when talking about yourself is to discuss your strengths and experiences in their terms.
This takes a little work up front, so here are a few tips:
Read the job description and application in detail to find any points that seem like problems the employer is trying to fix.
Research the organization online to find out any directions they seem to be taking. Even if you are applying for  an entry level job, your understanding of who THEY are will go a long way to overcoming experience deficiencies. For those new to the job market that could mean something as simple as punctuality. Are you on time for things you do?
How can you use this information and turn the interview into a discussion about them?
Here's an example: A job applicant was preparing for an interview. He looked on the internet and discovered a new CEO was now running the organization. He used this information very effectively. Here's the conversation:
Interviewer: "How are you?"

Applicant: "Great, thank you and how are you?"

Interviewer: "Pretty good, busy, but then that is good."

Applicant: "Busy is good. I saw that your new Executive Director started last month. How has that affected your organization?"

Interviewer: "It has been amazing. She has told us that we need to completely rethink our programming or we may be in trouble in 3-5 years."

Applicant: "That sounds a little scary. How does that affect you?"

Interviewer: "I need to hire people who can adjust and be creative and help us move forward, instead of being stuck doing things the same way we have done for the last 20 years."
The door was just opened so that every experience the interviewer may want to discuss can now be in terms of flexibility, creativity, willingness to accept change. It could be that the applicant just before you talked about 15 years of doing a job and doing it well without change. They may not fit as well as you.
OK, you are an entry level applicant and what the interviewer needs may not be on the web site. But you should look for clues in the job description. Something as simple as punctuality could be the key to hiring someone. But to just tell them you are punctual is not as effective as letting them know how punctuality is important to them and to you. How do you let them know?
Applicant: "I see you emphasize the job requires punctuality."
Interviewer: "Yes, the person we are replacing was inconsistent and we could not count on him."
Applicant: "It's hard to run an after school program when employees are late."
Interviewer: "Exactly! Are you an on-time person?"
Applicant: "When I was working on a project in school, I found that if I did not get to the meeting before others I would not have time to get settled. It helped a lot. So I have made that a priority."
The Director I mentioned said his main criteria was if the applicant "gets it." Putting your experience into their terms helps them understand that you get it. They will be much more willing to listen to your strengths and forgive your weaknesses.
The best way to prepare is to have three stories of what you have done that you can use in any interview. Then make minor adjustments to talk about their problems as you describe your experiences.
©Bill Voigt. Bill is a Coach and Communications Consultant. His clients include leaders looking to inspire others, managers who need to engage their direct reports, job seekers needing to be more than their résumé, and health care providers who need to collaborate in the new practice of medicine. He is a contributing author to Lumity NPO.net's blog and job coach on NPO.net's nonprofit career center.